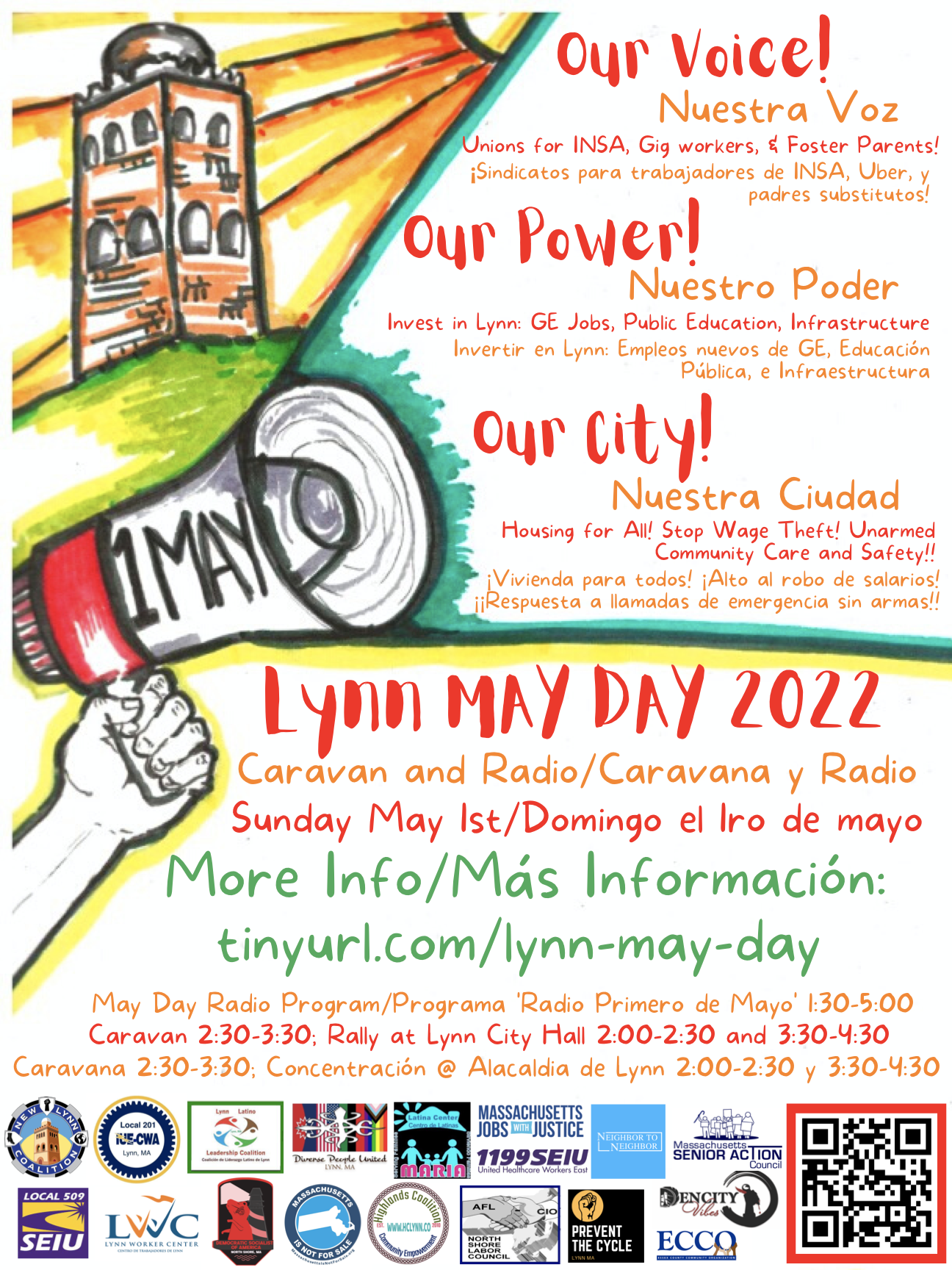 NOTE: Opening speakers will be at the Caravan gathering point near Cobbet Elementary School, at the lot next between 31 and 33 N. Common St. Please refer to the route map below for more detail.
CLICK HERE TO LISTEN TO OUR MAY DAY RADIO
(link will be active 5/1 at 1:00pm)
HAGA CLÍC AQUI PARA ESCUCHAR A NUESTRO RADIO DEL 1ro DE MAYO
(El enlace funcionará el 1 de mayo a las 1:00pm)
Radio May Day program will begin Sunday May 1, 1:30pm
La programa del Radio 1ro de Mayo comienza al Domingo 1ro de mayo, 1:30pm
SCHEDULE - AGENDA
1:30 pm: Radio program begins, caravan drivers meet at Cobbet Elementary (40 Franklin St, Lynn) and decorate their cars
2:00 pm: May Day welcome, speakers at Cobbet Elementary
- Introduction from Tish Mukala, President of New Lynn Coalition, and Maria Carrasco, President Emeritus
OUR VOICE / NUESTRA VOZ
- Tarshia Greene-Wiiliams, SEIU 509 Foster Parents Campaign
- Cannabis Workers Rising/INSA dispensary union campaign
- Sandra Lopez or Rahim Abassi, MA Not for Sale/gig workers union
2:30 pm: Caravan launches - join us along the route and show your support!
(See route map below)
We encourage anyone who will not be in the caravan to join the Dencity Vibes soulcase open mic and park clean up at the Lynn Commons, or join us at Lynn City Hall (3 City Hall Square) for more May Day community building.
3:30 pm: Caravan ends, gather for speakers at city hall
Emcees: Jacquelyn Fitzhugh, Vice President of New Lynn Coalition, and Magalie Torres-Rowe, Lynn Latina Leadership Coalition and Latina Center MARIA
OUR POWER / NUESTRO PODER
- Justin Richardson or Adam Kaszynski, IUE/CWA Local 201
- Fair Share Amendment Campaign
OUR CITY / NUESTRA CIUDAD
- Marven Hyppolite, ECCO and N2N, Housing
- Vincente Lopez or Juan Antonio Gonzalez, Lynn Worker Center, Wage Theft
- Adriana Paz, Prevent the Cycle, Unarmed Response Team
4:30pm: May Day closing remarks
5:00 pm: Radio program ends
CLICK HERE TO READ THE FULL PRESS RELEASE
CLIC AQUÍ PARA EL COMUNICADO DE PRENSA EN ESPAÑOL
Route Map / Mapa de la ruta:

CLICK HERE TO VIEW THE ROUTE MAP ONLINE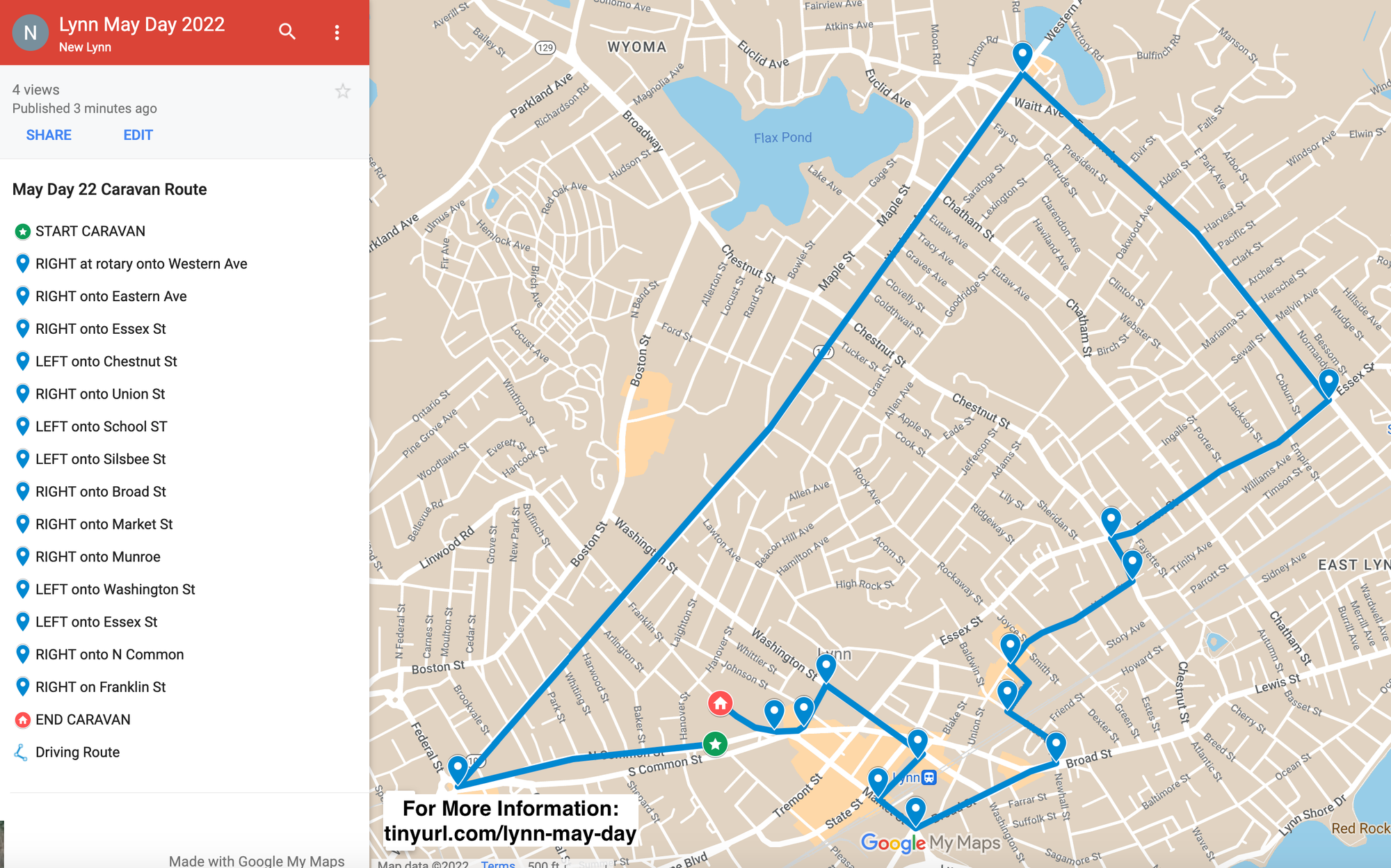 May Day 2022 was organized by volunteers from a broad group of sponsoring organizations:
1199 SEIU
Dencity Vibes
Diverse People United
Essex County Community Organization (ECCO)
Highlands Coalition
IUE/CWA Local 201
Jobs with Justice Massachusetts
Latina Center MARIA
Lynn Latino Leadership Coalition
Lynn Worker Center
Massachusetts Not For Sale
Massachusetts Pride at Work
Massachusetts Senior Action Council
Neighbor to Neighbor
New Lynn Coalition
North Shore Democratic Socialists of America
North Shore Juneteenth Association
North Shore Labor Council
Prevent the Cycle
SEIU Local 509