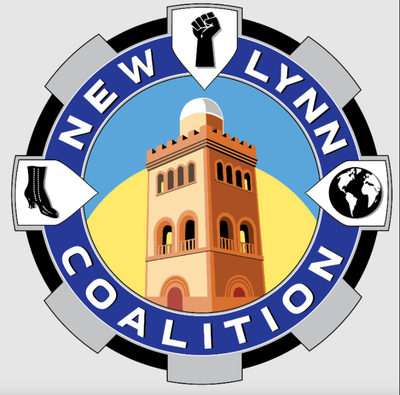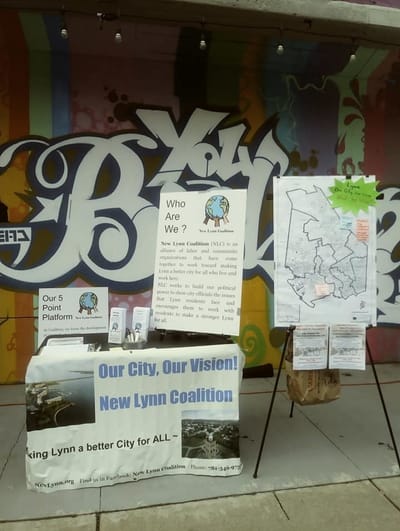 OUR MISSION
The New Lynn Coalition is made up of community, faith, and labor organizations. Our mission is to organize all sectors of working class people in our region into a unified, permanent, political, and economic force that is union and non-union, and transcends racial, linguistic, ethnic, citizenship, faith, and gender boundaries. We work to build ties with other allies as well.
We seek to redress/address the extreme income inequality that comes from lack of power for working people, and to have the ability to re-distribute the wealth. We directly address white supremacy in our organizing and educational activities.
POWER STATEMENT
Power means that we have (or represent) enough people to move our agenda, with a strategy and agenda that realizes the will of the people. It means that we have a place at the table, are decision-makers, and/or we can influence decisions makers. We are organized and accountable, and we are able to accomplish our goals to get results. We are recognized as getting things done, as being leaders, as having influence, and being a force to be reckoned with. We seek to collectively or cooperatively own buildings and businesses and to build our own institutions. We seek to positively impact the city and make substantial improvements. Power is a means to an end.
NEW LYNN COALITION MEMBERS
1199SEIU
: 1199SEIU United Healthcare Workers East are frontline caregivers in hospitals, nursing homes, homecare, clinics, pharmacies, and all other areas of the healthcare industry. The mission of 1199SEIU is to stand up for quality healthcare, good jobs, and social justice for all.
Diverse People United
: DPU's mission is to create transformative healing through cooperative community based actions. These include anti-racist education programs for Lynn area youth, and community conversations.
Essex County Community Organization (ECCO)
: ECCO is a multi-faith network of 39 congregations and the North Shore Labor Council that works to create a world where everyone belongs, where we all can thrive, and where we all have a say in the decisions that shape our lives.
Highlands Coalition
: The Highlands Coalition is composed of people who live or work in the Highlands. The coalition takes action on economic, social, and political matters to improve life in the neighborhood and mobilizes people into a strong alliance that benefits low-income and working-class people.
IUE-CWA Local 201
: IUE-CWA is the International Union of Electronic, Electrical, Salaried, Machine, and Furniture Workers/Communications Workers of America. Local 201 is made up of approximately 1,600 workers at General Electric Veolia Water, Ametek Aerospace, Avis & Budget Rental, and Saugus Librarians. Local 201's purpose is to improve the lives of workers, their families, and the conditions of the communities in which we live.
Latina Center MARIA
: The mission of Latina Center Maria is to empower Latino women with no or limited English through education. They provide English classes, continuing education monthly workshops in Spanish, and other services. Through the women served, they are empowering families and the Latino community.
Lynn Health Task Force
: The Lynn Health Task Force is an organization focused on empowering consumers and those lacking access to care to bring about fundamental health care reform. We believe that quality, affordable health care is a right of all people. The task for supports a health care system that is universal.
Lynn Latino Leadership Coalition
: The mission of the Lynn Latino Leadership Coalition, is to promote, educate, and empower Latinos to increase inclusion, visibility, and representation within the community.
Lynn United for Change
: Lynn United for Change is a volunteer-based community organization made up of Lynn residents. They are dedicated to fighting back against unjust evictions and foreclosures. Lynn United for Change is not a business, and does not charge for the information, support, and solidarity they provide.
Lynn Worker Center for Economic Justice
: The Lynn Worker Center is a place where immigrant workers and others can gather to examine the problems they face in work environments on the North Shore. It is a cooperative designed to offer help in the areas of law, language, learning, worker rights, and job training with the goal of organizing immigrant workers and providing resources to fight for their rights in the workplace.
Massachusetts Senior Action Council (MSAC) North Shore Chapter
: MSAC is a statewide, grassroots, senior-led organization that empowers its members to use their own voices to address key public policy and community issues that affect their health and well-being.
Neighbor to Neighbor
: Neighbor to Neighbor is the "new majority:" people of color, immigrants, women, and the working class, on a path to liberation. Their statewide membership of over 15,000 people is organizing to put people and the planet before profit. Neighbor to Neighbor counters the fear that causes injustice by building power to transform the institutions that govern our lives.
North Shore Juneteenth Association
: North Shore Juneteenth Association exist to give back to our community while creating events and providing resources that expose ALL cultures to positive images of African American culture.
North Shore Labor Council (NSLC)
: The North Shore Labor Council is a network of associations with the central goal of improving the lives of workers and their families. NSLC is fighting for financial, social, and racial equity at workplaces in the North Shore and throughout our state and country.
Prevent the Cycle
: Prevent the Cycle is committed to racial equity and systemic change through community engagement, education and policy reform. PTC has a particular focus on engaging Lynn's youth in changing our city's future.
SEIU Local 509
: SEIU Local 509 represents nearly 20,000 human service workers and educators throughout Massachusetts. We provide a variety of social services to elders, at-risk children and people with mental illnesses or developmental disabilities
NEW LYNN COALITION SUPPORTING MEMBERS
Latino Support Network
: The Latino Support Network Inc. is a non-profit organization serving the Latino community and other immigrant communities in Lynn.
Gregg House
: The Gregg House mission is to support each child in their program to grow up healthy, educated, resilient, and successful by providing every family with comprehensive services, appropriate resources, and ongoing opportunities for family and community engagement.
Lynn Grows
: Lynn Grows is a partnership between The Food Project (TFP), the Lynn Food and Fitness Alliance (LFFA), Lynn residents, and other stakeholders. They aim to build a food system that works for everyone in the city of Lynn.